The Boca x Buck pups all went to their homes over this weekend. Well, all except Elektra as she is staying put but will also have to learn to exist without her sibs. And apparently all the pups are very vocal -- no surprise to us, but apologies to their new owners! We are very excited about the pups' potential with their new homes - whether they do agility, tracking, obedience, rally, work stock or be valued family members, they will make me happy if they make their owners happy!
The first to leave the nest was Mr Green (now Tuck/Tucker) on Friday morning. Despite his many vocal protests, he was allowed by SouthWest Airlines to fly to Rochester, NY to join the household of Darren and Susan Van Houten and their two girls Ellie and Lila and the spirit of his Great-grand Auntie Guinness (Jack x Zima, Star's littermate). Tuck has quickly learned that snow exists and that not everything goes his way when he wants but that there is lots of fun to be had at weekend sporting events. He will soon attend Puppy Kindergarten and may be introduced to agility as time permits!
The second to leave the nest was MP (MoneyPenny, final call name TBD) with Katrina Parkinson of Mill Valley, CA hopefully to follow in the very accomplished agility footsteps of Maddie and Fawkes. While MP's trip home was shorter in duration than Mr Green's, her home integration has been marred by the constant exercising of her vocal chords in protest of everything and anything that does not go her way. Sorry, Katrina!
Q (final call name TBD) left on Sunday morning. Karen Nenow convinced him to stay quiet for the flights back to Kansas City so he could join Great Auntie CT MACH2 Mariah (Lucky x Star) and Flurry to be trained in whatever venue suits him (but we are pretty sure that he will get to do agility!).
Jody had to wait until Monday for her puppy to be delivered via Judge Mike Black who had been judging the PASA ASCA agility trial over the weekend in Morgan Hill, CA. Apparently Vesper (now Brio) was an angel in transit, but quickly showed her true colors (and vocal chords) upon arrival at DFW en route to home. Good luck, Jody!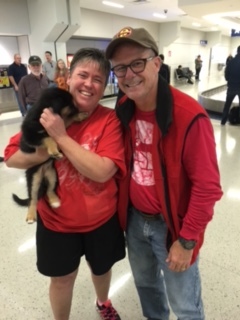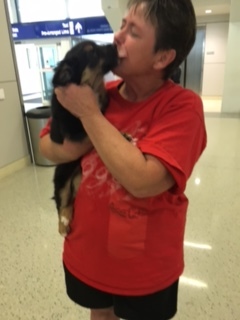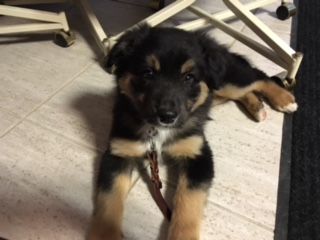 And finally there is Elektra. Her call name may change, but we think not. Several of us picked her for Dave upon birth (Gina C called it as soon as she came out!). Dave kept his options open but eventually it was undeniable that she had connected and wanted to stay with us, so stay she did! The camera loves her, and she has perfected the head tilt. Win!
[UPDATE: Elektra's registered name will be Slipstream's The World Is Not Enough]
What an adventure it was getting everyone ready to go to their new homes! Sherpa Bags are not necessarily the friends of wild puppies.